August 16, 2023
DCPS Back to School: Progress, Plans, and Exciting Initiatives for 2023-2024
Featured
This message was shared with DCPS families and staff on August 16, 2023.
Dear DCPS Community,
Back-to-School season is upon us! Whether your family is squeezing in more travel, relaxing after summer enrichment, or already preparing for the upcoming school year, I hope you all have been staying cool, and that this time is bringing joy and rejuvenation.
At DC Public Schools (DCPS), we use the summer to prepare for the year ahead. Mayor Bowser and I have spent the last two months meeting with leaders, partners, and educators across our district to reflect on the successes of the past school year and plan for how to address and improve on our challenges.
Thanks to our dedicated community, we made great strides in our post-pandemic learning recovery and saw many bright spots in our student performance data. As we prepare for School Year 2023-2024, we are committed to academic acceleration. And we are enhancing our instructional strategies and curricula to ensure our students receive robust and joyful learning experiences through the following initiatives:
Our Pre-K classes will adopt the Building Blocks math curriculum.
We will soon release new Readers Next Door DCPS Decodables, including 2nd grade books and Spanish books for Dual Language Schools.
Middle schools will implement the Amplify Science curriculum, beginning with all 6th grade science classes.
All high schools can now offer the new AP Precalculus course.
For additional updates, both academic and extracurricular, please join our Back-to-School Information Session tonight at 6:00 p.m. See more details below.
Powerful learning happens when families and educators partner together. Thank you for all you do.
We're excited to welcome you back on August 28!
In partnership,    
Lewis D. Ferebee, Ed.D.   
Chancellor
Today's word count: 1,500 words, a 12-minute read.
---
See You Tonight: Virtual Back-to-School Info Session 🗓️
Join DCPS tonight, August 16, from 6:00 – 7:00 p.m. for the virtual DCPS Back-to-School Info Session. Hear directly from Chancellor Ferebee and DCPS leadership about district-wide updates for School Year 2023-2024. We will cover student health, safety, academics, early childhood, attendance, and more. Register here.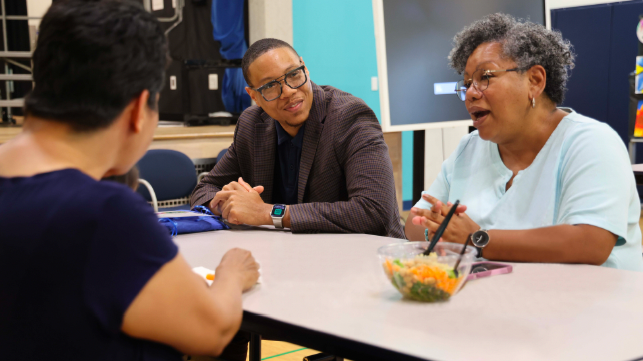 ---
Ready for Pre-K Magazine 🖍️
DCPS educators are excited and ready to welcome our youngest learners into the classroom! If your child is starting their Pre-K journey at DCPS this month, check out the new Pre-K Family Magazine for vital information to help both you and your child feel prepared. This includes details about the Pre-K classroom experience, key dates, helpful links, answers to commonly asked questions, and ideas for supporting your child's learning over the summer as they transition into school.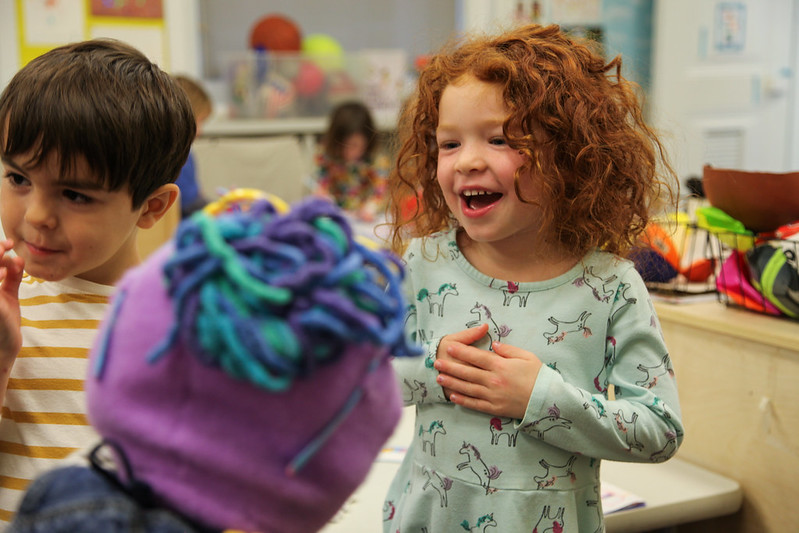 ---
Strategic Plan Community Update 📊
Over the last year, input from thousands of stakeholders – including families, staff, and students – has shaped the direction of our next five-year strategic plan, ensuring that it aligns with the needs of our community. In June, we conducted a survey to ensure we gathered feedback on the implementation of our goals. You can see the dynamic report here. We look forward to sharing the final plan with the entire DCPS community in early fall.
---
Put Vaccines on YourBack-to-School List ⚕️
To attend school, families are required to submit their student's up-to-date immunization records by the first day. Vaccinations are critical for preventing illness and reducing the dangers that can come with being exposed to certain diseases. Click here for more information and forms, including the full list of required childhood immunizations. If you have not already submitted your child's immunization records to your school, here is what you need to do now:
Make an appointment with your child's doctor. DC offers resources to help find a health provider if you do not have health insurance. More resources can be found at pedsvax.dc.gov.
Have the doctor complete the DC Universal Health Certificate. Your health provider may also provide a different proof of immunization document or an exemption explanation.
Submit your immunization paperwork to your child's school. You can drop it off or call the school's main office if you have questions about how to submit your form.
Watch Dr. Ferebee's full remarks on the required immunizations for SY 23-24 here.
---
MacArthur High School Update
On Monday, August 28, DCPS will open the doors of the city's newest comprehensive neighborhood high school in over 50 years. Last month, MacArthur High School Principal, Dr. Harold McCray joined the City Cast DC podcast to talk about building a campus culture that is welcoming and inclusive for every student. He also discussed the school's unique STEM programming and gave a preview of campus facilities.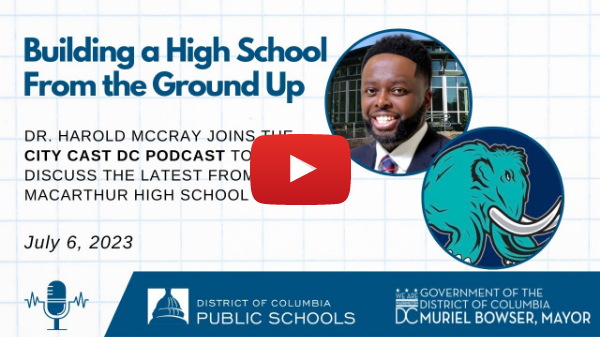 ---
Save the Date: Back-to-School Block Party 🥳
You are invited to the annual DCPS Back-to-School Block Party at McKinley Tech High School on Saturday, September 23, from 11:00 a.m. to 2:00 p.m. Enjoy free food and fun activities, learn about city resources, and watch student performances as we celebrate the start of a new school year. Be sure to tell your colleagues, school community, and neighbors to attend, too. RSVP today.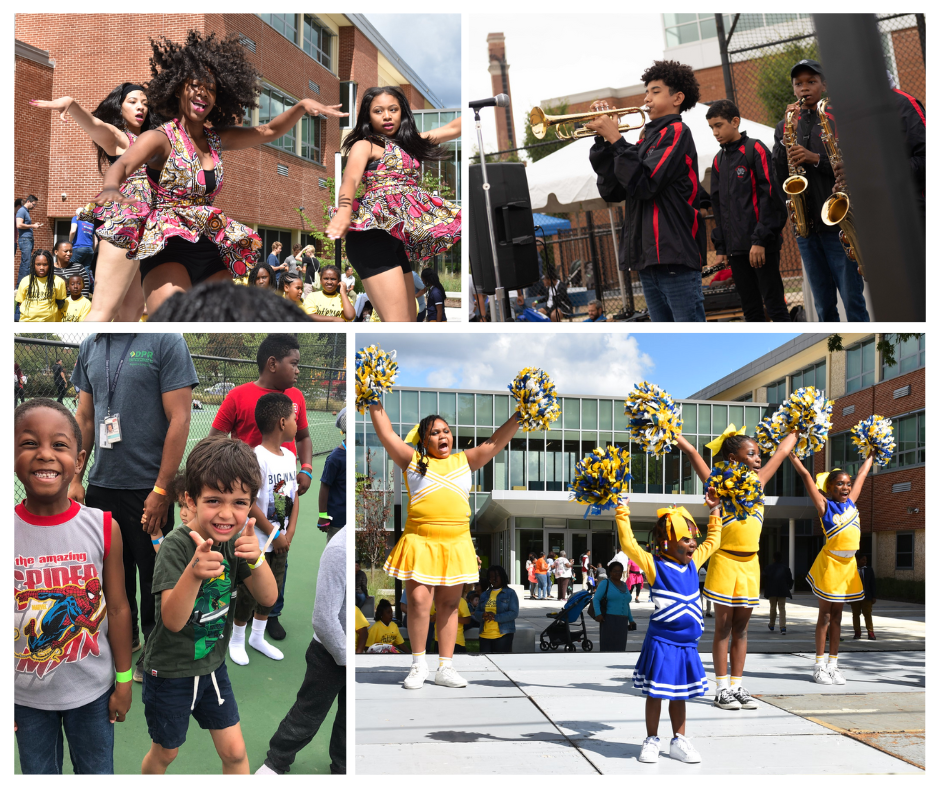 ---
Get Ready for DCPS Friday Night Lights! 🏈
DCPS' participation in the District of Columbia Interscholastic Athletic Association (DCIAA) is a point of pride for our students, staff, and families. Research indicates that students who participate in athletics have better school attendance, receive higher grades, and report a stronger sense of wellness. We're so excited to have our student athletes back this school year for healthy, safe extracurriculars that promote integrity, fitness, and perseverance.
Cheer on our Boys Varsity Football teams at the first DCPS match-up of the season on Friday, August 25, at 6 p.m. as the Ron Brown College Preparatory High School Monarchs play the Eastern High School Ramblers at Eastern High School. Hope to see you there!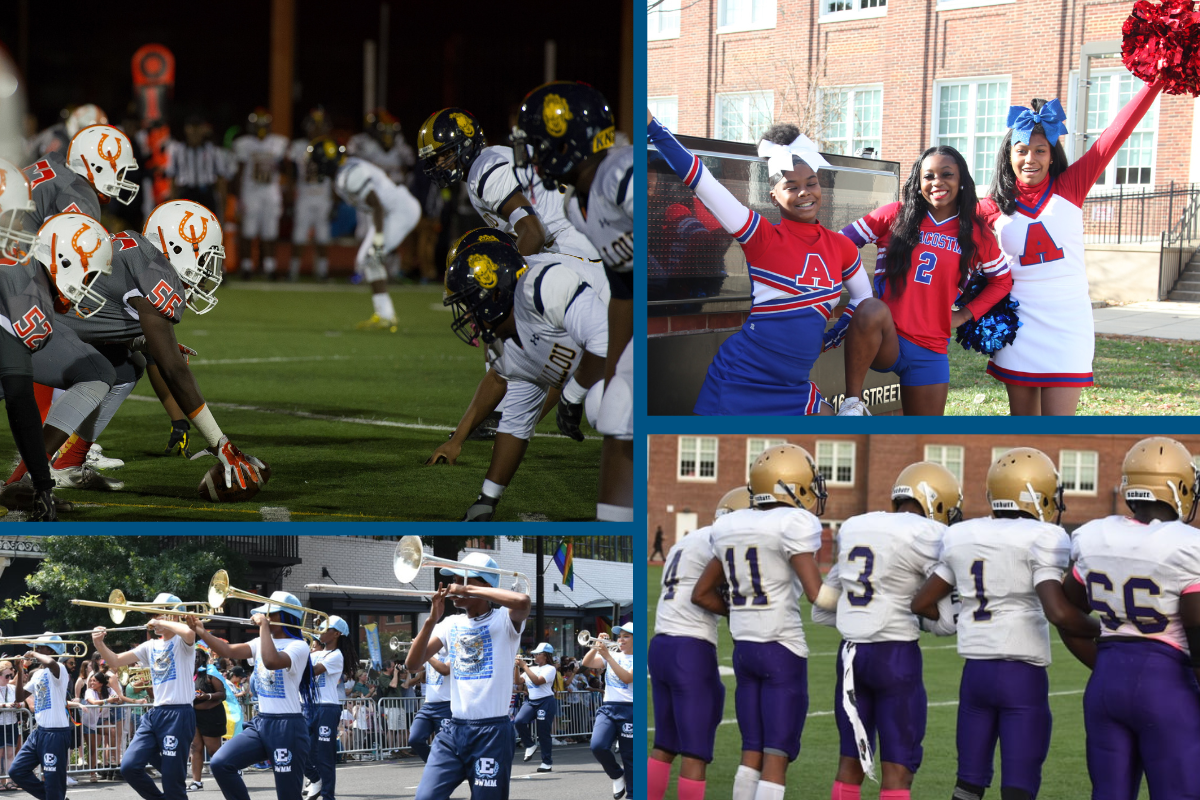 ---
Students Discover and Strengthen New Skills Over Summer Break 🏋️‍♀️
From gaining direct job skill training to exploring the great outdoors to mastering middle school math—DCPS students stayed busy in our summer programs. In Career and Technical Education (CTE), students built and programmed robots for epic robot battles and developed mobile apps. Middle school students completed math acceleration courses to boost their learning and prepare for high school. And students got physical in the Outdoor Pursuits program hiking, rock climbing, and kayaking around the District.
"Challenging yourself should be part of your personal goals. Whether it's kayaking or learning to code, I hope you got the chance to push yourself this summer and reflect on all that you learned."
—Chancellor Ferebee
---
DCPS Summer Happenings 🗞️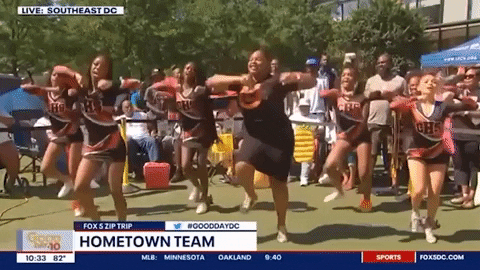 ---