June 6, 2023
DCPS Celebrates Pride 🌈
Featured
This message was shared with DCPS families and staff on June 9, 2023.
Dear DCPS Community,
Happy Pride Month! Every June, LGBTQ+ staff, students, families, and allies come together to celebrate the rich contributions of a diverse community. Please join me for the 48th Capital Pride parade this Saturday — we'll gather at Ross Elementary School at 1:45 p.m.
🗓️ Saturday, June 10
⏰ 1:45 p.m.
📍 Ross Elementary School | 1730 R St NW
This year, I am particularly proud to work in a city that stands with all our families. Washington, DC is home to the highest percentage of LGBTQ+ people nationwide. We are the founding city for Black Pride, and our Trans Pride celebration is one of the largest in the country.
As Mayor Bowser has said, "Protecting and advancing LGBTQIA initiatives, protections, and values in DC is a whole-of-government approach — it is everyone's responsibility." This rings especially true for DC Public Schools (DCPS), where we have witnessed some of the most affirming initiatives in my 27 years in education, including:
Seaton Elementary School, which will be officially recognized as a "Welcoming School" by Human Rights Campaign (HRC) President Kelley Robinson later this month.
Duke Ellington School of the Arts, which is celebrating its 2nd annual Pride Week with a vogue-off, a Students vs. Teachers lip sync battle, and a community thrift shop.
Whittier Elementary School, where students will "Read Across the Rainbow" next week to highlight inclusivity in literature
When young people are happy, healthy, and able to pursue their goals — regardless of gender or sexual orientation — it creates a better future for all of us. Ensuring support and acceptance from staff and teachers, implementing inclusive policies, and using gender-affirming language are just a few of the ways DCPS contributes to the well-being of LGBTQ+ youth.
I am proud to be part of a community committed to creating a safe and inclusive environment for all students. Thank you for supporting LGBTQ+ students, staff, and families, and I hope to see you Saturday.
Today's word count – 1100 words, a 6-minute read.
In partnership,    
Lewis D. Ferebee, Ed.D.   
Chancellor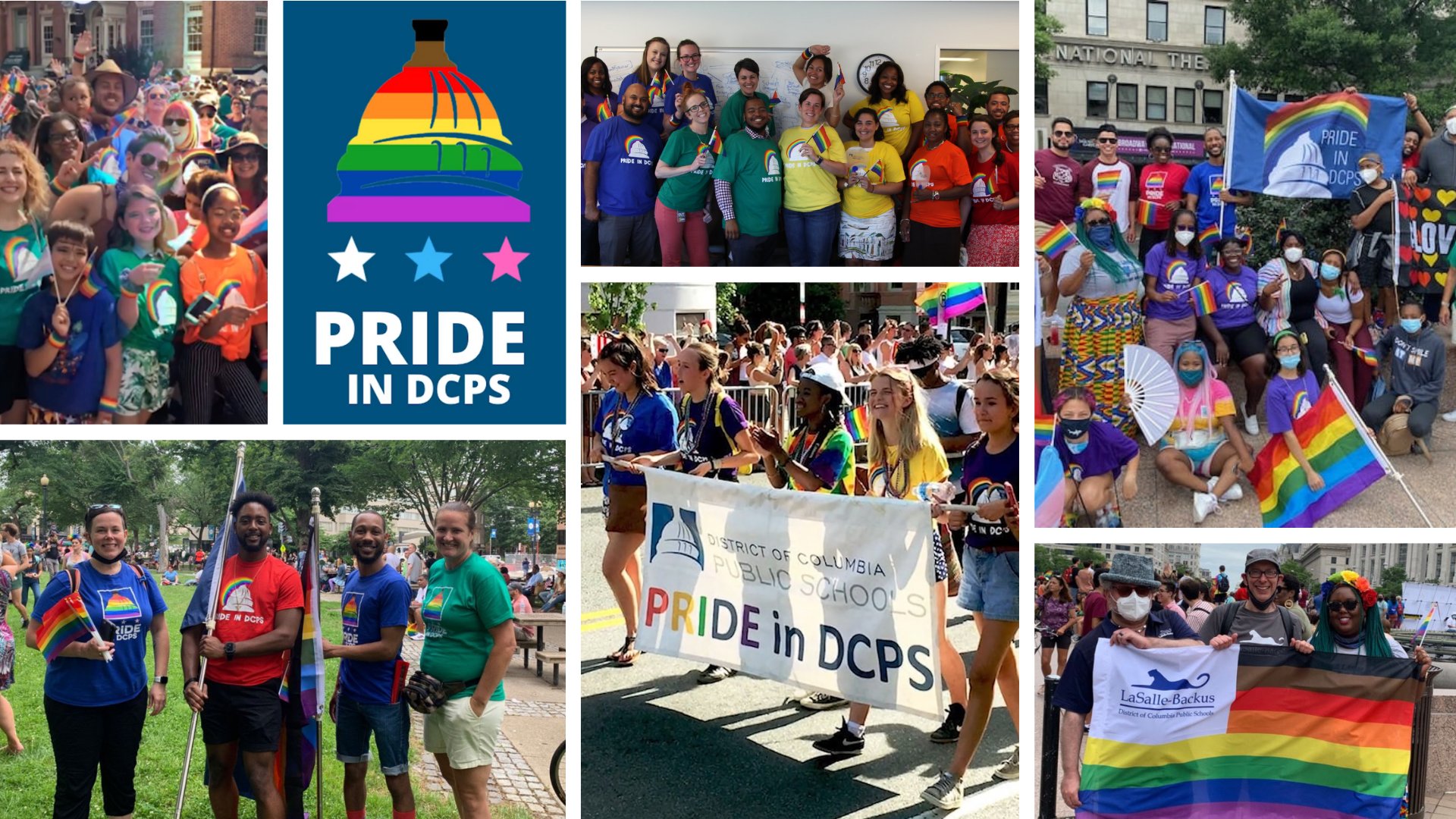 ---
Chancellor Ferebee Speaks at #AWSSummit DC 🏛️
According to the Bureau of Labor Statistics, there is currently a talent shortage for over 300,000 manufacturing jobs. By 2028, that could expand to over 2 million jobs. Deloitte, Amazon, DCPS, and the National Math and Science Institute are partnering to bring an exciting new STEM curriculum to the district. The Smart Factory Believers Program will expose students to circuitry, coding, and robotics — developing future leaders in the industry.
Watch Chancellor Ferebee's remarks on Twitter.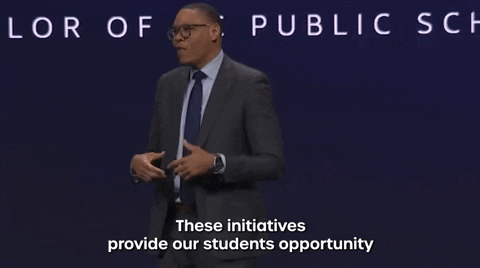 ---
200+ Students Attend DC Youth Environmental Summit 🌻
The sixth annual DC Youth Environmental Summit was held last week, and it was the largest one yet. Students from Anacostia HS, Ballou HS, Coolidge HS, and Ron Brown College Preparatory HS took part in water conservation and clean-up efforts, gardening, cooking, farming, yoga, and more.
For Ballou High School librarian Melissa Jackson, the summit helps her students think more deeply about pursuing college and career opportunities in their own backyard. "As a Southeast resident and Ballou alumna, I've never seen the creek, so to get in the water, and even see a deer was amazing," she said. "The lesson for students is to dream big and not let anyone or anything stop them."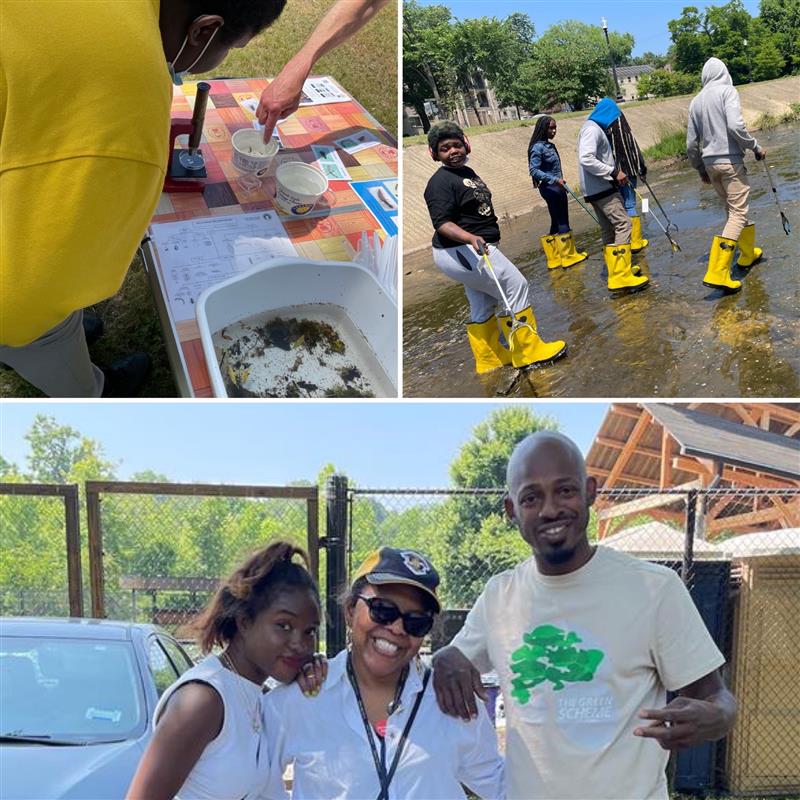 ---
Strategic Plan Community Update 📊
As we head into the final stages of developing our next strategic plan to lead our work for the next five years, we're excited to share a survey for feedback on the implementation of our goals. To take the survey visit publicinput.com/strategicplan2023. This draft has been shaped by feedback from thousands of stakeholders, and the final plan will be shared with the entire DCPS community later this summer. To read more about "What We Heard" during our community engagement visit dcpsstrong.com/strategic-plan.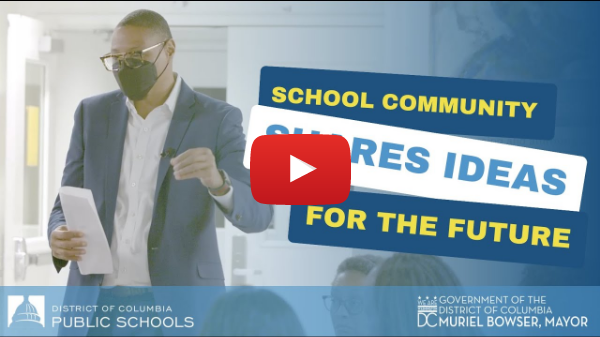 ---
SYIP Applications Are LIVE! 💼
Teens and young adults: The School Year Internship Program (SYIP) provides work-readiness skills, project-based learning, life skills, leadership development training, and work opportunities for District youth ages 14 – 21. The goal of the program is to help prepare District youth to successfully transition from high school into postsecondary education, advanced training, unsubsidized employment, or a career in the military. Eligible youth can apply today at does.dc.gov/service/school-year-internship-program or email youthjobs@dc.gov for any questions.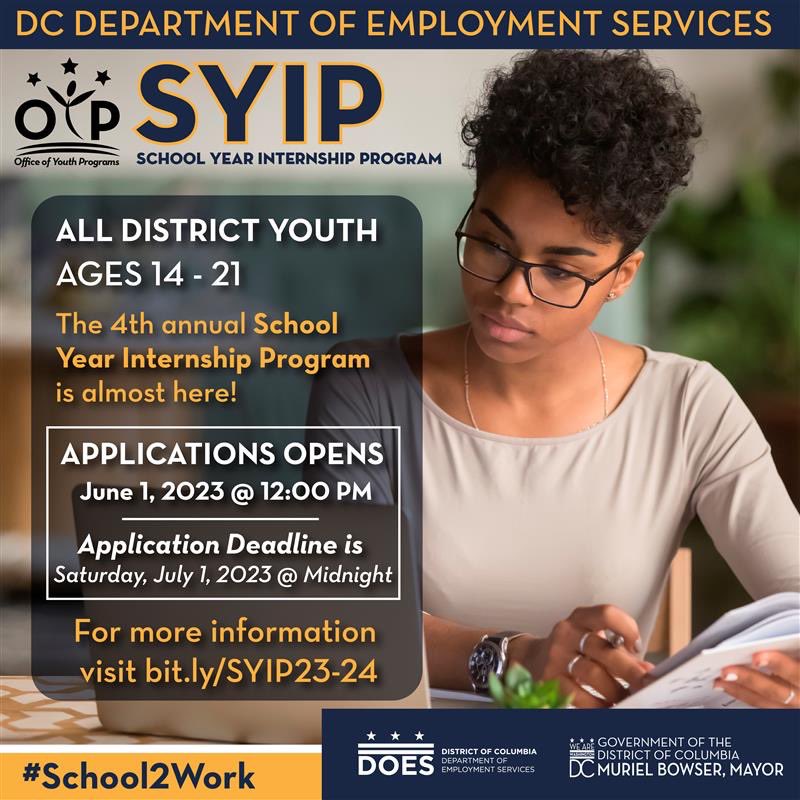 ---
DCPS Happenings 🗞️
DC Black Facts: Mayor Bowser and Chancellor Ferebee joined the Bunker Hill ES community and many distinguished guests for the unveiling of the DC Black Facts Cards, featuring original student art and shout-outs to notable Black leaders who have impacted the District. Visit the Informer.
STEM Teacher Celebrated by Disney Imagination Campus: C.W. Harris teacher Ms. Samiyyah Blanford was honored for bringing creativity and imagination to life in her curriculum. View on Good Morning America.
OG Cherry Blossoms 🌸: CHEC Japanese & Visual Art teacher Ms. Yamashita chaperoned a tour across Japan where students enjoyed ancient shrines, stunning gardens, home visits, culinary and dance lessons, and world-class museums. View on Instagram. ⛩️
Community Safety & Violence Prevention: DCPS students at Ballou and Anacostia High Schools raised awareness for gun violence by wearing the color orange and participating in the Orange Flag Project, a project developed by a DCPS Trauma Prevention and Recovery Manager.
Big Smiles and Bright Futures: Bard HS students in the College Track program held a special ceremony celebrating their years of progress toward higher education. College Track is a partner organization currently working in Anacostia HS, Bard HS Early College, and Ballou HS. View on NBC 4.
NBA2K National Champ 🏀: Eastern HS student Taylor Frost is the national PlayVS champion. With esports on the rise, this is great for Eastern's program and the growing network across DCPS. View on Twitter.
Eyes on the Prize: On Monday, Health and Human Services Secretary Xavier Becerra and Chancellor Ferebee visited a Vision To Learn mobile clinic at Noyes ES, where students received free eye exams and eyeglasses. View on Twitter.
---
Important Upcoming Dates 📆
June 10: Capital Pride Parade
June 14: DCPS Global Education Showcase
June 14: "Getting Ready for Pre-K!: Preparing for a Smooth Transition" Workshop (virtual event)
June 18: Father's Day
June 19: Juneteenth (DCPS closed)
June 20: "Navigating the DCPS Special Education Process" Workshop (virtual event)
June 22: Last day of school for students
June 23: End of Term 4 / Records Day / Professional Development Day
---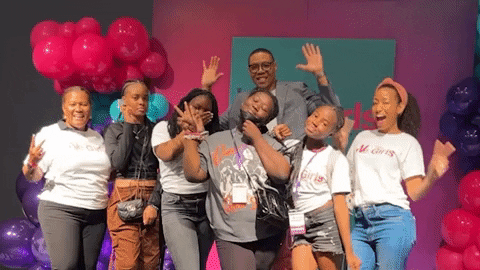 Middle school students attend the 6th Annual We The Girls: Young Women's Leadership Conference