March 15, 2023
Important Lessons for Future Careers
From the Chancellor
This message was sent to DCPS families from Chancellor Ferebee on March 15, 2023.
Esta carta está disponible en español a continuación
Dear DCPS Community,
When you were in high school, how did you prepare for a potential career? Were you able to shadow a Michelin-starred chef? Did you have a paid internship at an engineering firm? Or graduate with an industry-recognized certificate?
This is how DC Public Schools (DCPS) is preparing students today for the careers of tomorrow!
Career and Technical Education (CTE) in DCPS ensures that our schools are offering high-quality CTE programs of study and Career Academies that provide students with access to the District's high-wage, high-demand careers. Students enrolled in CTE programs complete a three- or four-year course series alongside their high school curriculum. This includes preparation for certification exams and participation in work-based learning experiences like internships, job shadowing, and industry field trips. More than 4,800 students are taking part in over 50 CTE programs within 24 Career Education Pathways across 16 high schools!
I recently had the opportunity to meet with some students enrolled in Jackson-Reed High School's career academies, and they shared how they are learning important lessons that will help them in future careers. When students are engaged in CTE programming, they're much more prepared for what's next after graduating from high school.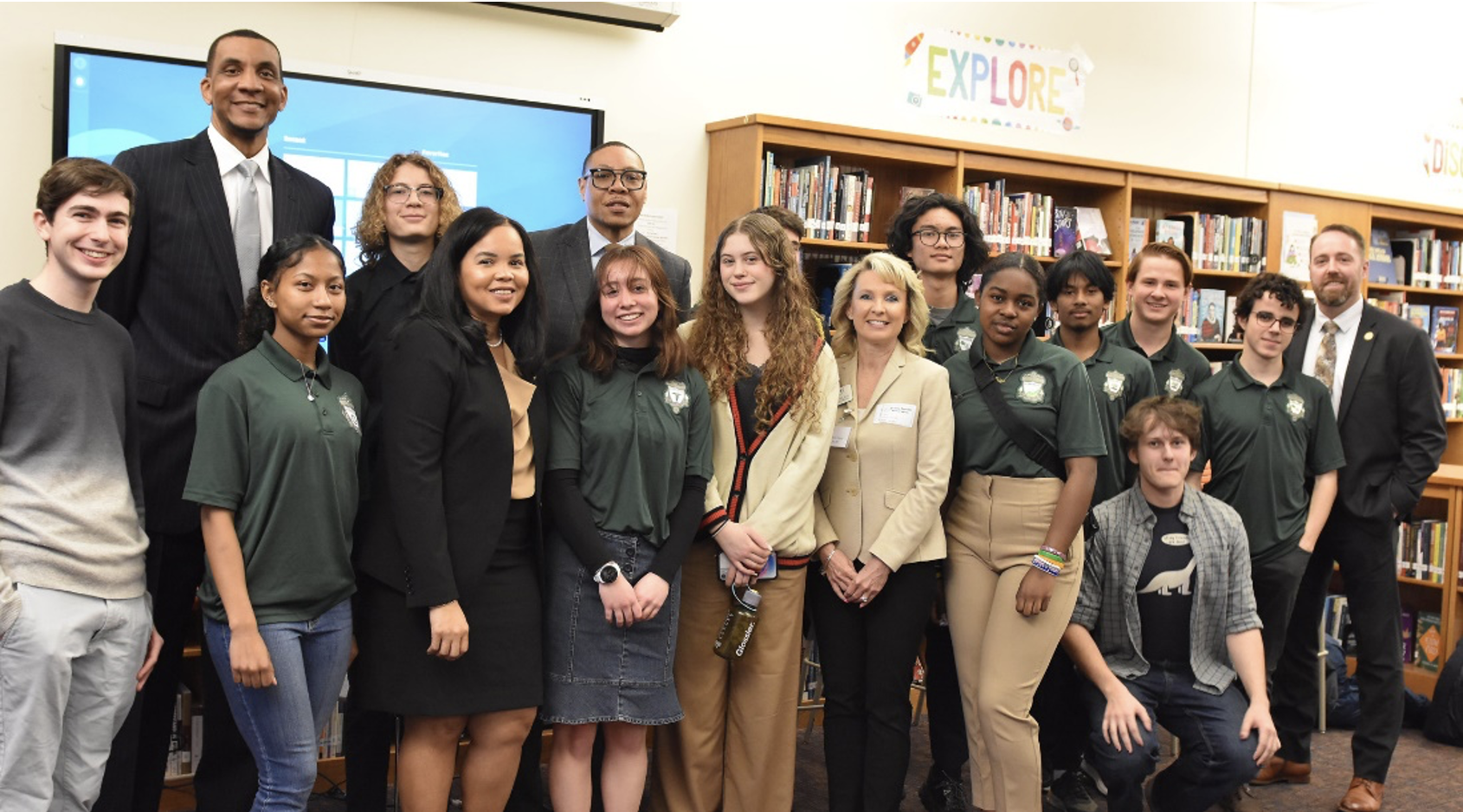 High school CTE programming is just part of DCPS' commitment to prepare students for success in college, career, and life.
Continue reading for information about summer learning programs and spotlights on what is happening at our schools.
In partnership,
Lewis D. Ferebee, Ed.D.
Chancellor
Previewing Summer Learning at DCPS
Every summer, DCPS provides summer learning opportunities for elementary, middle, and high school students. Students who participate in summer programming have opportunities to form new friendships, strengthen academic skills, and prepare for the year ahead. There is no cost to attend a DCPS summer program.
Our 2023 Family Guide to Summer Learning will be available online starting next week and will provide details on the acceleration, enrichment, and credit recovery courses and more available this July and August.
Be sure to also stop by the "Summer in the City" expo on Saturday, March 25, from 11:00 a.m. to 2:00 p.m. at Eliot-Hine Middle School. The DC Deputy Mayor of Education and the Out of School Time Office are bringing together more than 40 local partners to share information about programming, learning experiences, activities, jobs, and internships for your family this summer.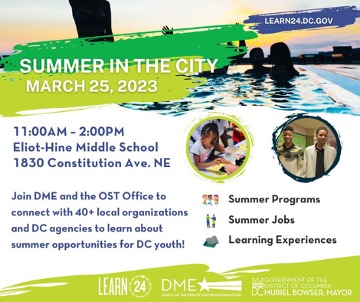 DCPS Celebrates Read Across America Day with Secretary Cardona
Read Across America Day was March 2, and Tyler Elementary welcomed U.S. Secretary of Education Miguel Cardona to share one of his favorite books with students. De Aquí como el Coquí, writtenby Normar Perez, tells the story of a young boy who moves from Puerto Rico to the U.S. mainland and discovers that his new home is not so different from the place he left behind.
Want to know what a coquí sounds like? Watch this video where a few students gave it a try!
Thank You, School Social Workers
The entire month of March is recognized as National Social Work Month, and last week we celebrated School Social Work Week. DCPS social workers are superheroes who work tirelessly to support our students' mental health and overall well-being. Through education planning and evidence-based supports, they are guiding lights for our students and school communities. Thank you to the more than 200 social workers who serve our schools!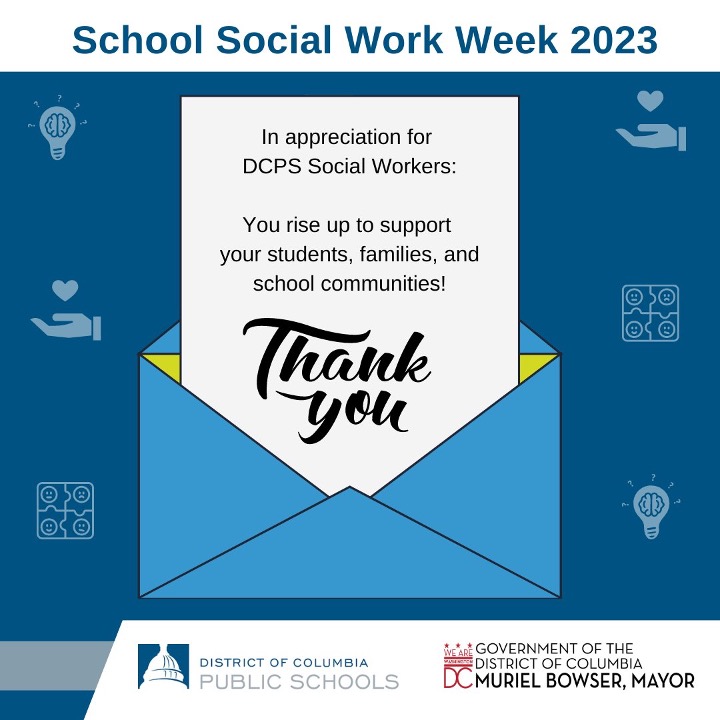 DCPS Students in the News
Important Upcoming Dates 📆
March 22 – Ramadan begins in evening
April 5 – Passover begins at sunset
April 7 – Good Friday
April 9 – Easter Sunday
April 10 – End of Term 3 Records Day / Professional Development Day (No school for students)
April 13 – Passover ends in evening
---
Lecciones Importantes Para Futuras Carreras
Estimada Comunidad de DCPS,
Cuando estabas en la Escuela Secundaria, ¿Cómo te preparaste para una posible carrera? ¿Tuviste la oportunidad seguir de cerca a un chef con estrellas Michelin? ¿Tuviste algunas pasantías en una empresa de ingeniería? ¿O te graduaste con un certificado reconocido por la industria?
¡Así es como las Escuelas Públicas de DC (DCPS) están preparando a los estudiantes de hoy para las carreras del mañana!
La Educación Profesional y Técnica (CTE, por sus siglas en inglés) en DCPS garantiza que nuestras escuelas ofrezcan programas de estudio CTE de alta calidad y Academias Profesionales que proporcionen a los estudiantes acceso a las carreras de alta demanda y altos salarios del Distrito. Los estudiantes inscritos en programas CTE completan una serie de cursos de tres o cuatro años junto con su plan de estudios de la escuela secundaria. Esto incluye la preparación para los exámenes de certificación y la participación en experiencias de aprendizaje en el trabajo como prácticas, observación del trabajo y viajes de campo de la industria. Más de 4,800 estudiantes participan en más de 50 programas CTE dentro de 24 itinerarios de formación profesional en 16 escuelas secundarias.
Recientemente tuve la oportunidad de reunirme con algunos estudiantes inscritos en las academias profesionales de la escuela secundaria Jackson-Reed, y compartieron cómo están aprendiendo lecciones importantes que les ayudarán en sus futuras carreras. Cuando los estudiantes participan en programas de CTE, están mucho más preparados para lo que viene después de graduarse de la escuela.
La programación CTE de la escuela secundaria es sólo una parte del compromiso de DCPS para preparar a los estudiantes para el éxito en la universidad, la carrera y la vida.
Siga leyendo para obtener información sobre los programas de aprendizaje de verano y sobre lo que está ocurriendo en nuestras escuelas.
En cooperación,
Lewis D. Ferebee, Doctor en Educación
Canciller
Avance sobre el Aprendizaje de Verano en DCPS
Cada verano DCPS ofrece oportunidades de aprendizaje para estudiantes de primaria, secundaria y preparatoria. Los estudiantes que participan en la programación de verano tienen la oportunidad de formar nuevas amistades, fortalecer sus habilidades académicas y prepararse para el año que comienza. Asistir a un programa de verano de DCPS no tiene ningún costo.
Nuestra Guía Familiar 2023 para el Aprendizaje en Verano estará disponible en línea a partir de la semana que viene y ofrecerá detalles sobre los cursos de aceleración, enriquecimiento y recuperación de créditos, y otros disponibles este julio y agosto.
Asegúrese también de pasar por la exposición "Verano en la ciudad" el sábado 25 de marzo de 11:00 am a 2:00 pm en la Escuela Intermedia Eliot-Hine. El Alcalde Adjunto de Educación de DC y la Oficina de Tiempo Extraescolar reúnen a más de 40 socios locales para compartir información sobre programación, experiencias de aprendizaje, actividades, empleos y prácticas para su familia este verano.
DCPS celebra el Día de la Lectura en América con el Secretario Cardona
El Día de la Lectura en América fue el 2 de marzo, y la Escuela Primaria Tyler dio la bienvenida al Secretario de Educación de EE.UU., Miguel Cardona, para que compartiera uno de sus libros favoritos con los alumnos. De Aquí como el Coquí, escrito por Normar Pérez, cuenta la historia de un niño que se traslada de Puerto Rico al continente estadounidense y descubre que su nuevo hogar no es tan diferente del lugar que dejó atrás.
¿Quiere saber cómo suena un coquí? ¡Vea este vídeo en el que unos estudiantes lo prueban!
Gracias, Trabajadores Sociales Escolares
Todo el mes de marzo está reconocido como el Mes Nacional del Trabajo Social, y la semana pasada celebramos la Semana del Trabajo Social Escolar. Los trabajadores sociales de DCPS son superhéroes que trabajan incansablemente para apoyar la salud mental y el bienestar general de nuestros estudiantes. A través de la planificación de la educación y los apoyos basados en la evidencia, son luces que guían a nuestros estudiantes y comunidades escolares. ¡Gracias a los más de 200 trabajadores sociales que prestan sus servicios en nuestras escuelas!
Estudiantes de DCPS en las Noticias
Próximas fechas importantes 📆
22 de marzo – El Ramadán comienza por la noche
5 de abril – La Pascua comienza al atardecer
7 de abril – Viernes Santo
9 de abril – Domingo de Pascua
10 de abril – Día de Calificaciones del final del Tercer Trimestre/ Día de Desarrollo Profesional (No hay clases para los alumnos)
13 de abril – La Pascua termina por la noche